▴Book Review▴ Wreck Me (Nova #4) by Jessica Sorensen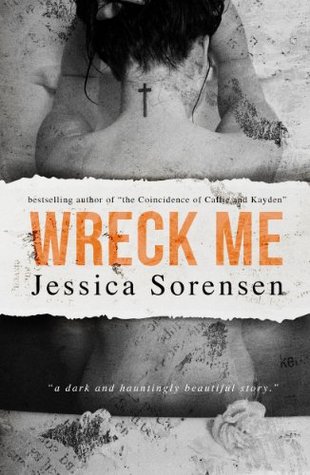 When Avery Hensley met Conner Wellings, she thought she'd found the guy she was going to spend the rest of her life with. She got married young and had the most beautiful son in the world. Life seemed perfect. But not everything is what it seems.
Turned out Conner had another side to him, a darker side that Avery didn't see coming. He wrecked and broke her into a thousand pieces, leaving Avery to put herself back together. From then on, Avery vows never to let a man into her life again.
But then she meets Tristan Morganson. He's sweet and sexy and wrecks Avery in a different way than Conner did, the kind of way that makes her feel alive again, the kind of way that makes her think maybe not all guys are bad.
But can Avery trust him enough to let her walls come crumbling down?
*Can be read as a standalone.*

As if I've lost my mind, I wet my lips with my tongue, a move I haven't done in years. A slow smile curves at his lips.
"You did that on purpose," he murmurs while eyeing my mouth and moistening his lips with his tongue.
"No I didn't." I suck my bottom lip into my mouth. What the hell am I doing? Stop leaning in Avery. But we move like magnets.
He leans in a little. I lean in a little. Me. Him. Me. Him.
There's hardly any space left between us. I can feel the warmth of his breath. Smell the delicious scent of his cologne. He's still holding the cigarette and smoke circles around us mixing with the intensity of the moment.
Am I going to do this? Let my wall down for another guy?
I never fully get to make the decision because Tristan eliminates the last of the space between us and our lips collide.
Wreck Me is the Nova series' fourth book which features Tristan and Avery. Though this is part of a series, it can be read as a standalone. In fact, I haven't started any other books in the series, but I was still able to get into this story. So rest assured, you won't be confused or feel out of the loop while reading if you haven't read the other stories either. However, I always encourage people to read the first books if possible so that you can get a better understanding of everyone's story and get deeper into their world.
"I'm not scared of death, just tired. So fucking tired of being alive yet never fully breathing."
Avery Hensley found hope, love, and an escape when she met Conner Wellings. She thought this boy from the good side of the tracks was going to be able to provide her with a happily ever after.
Unfortunately for her, the old life she had under her mother's roof sunk back into her new life with him.
Conner used and abused Avery in the worst ways possible. He wrecked her to the point of wanting to die.
During a life-threatening situation, Avery has an epiphany and realizes she needs to kick start her life in a positive direction. Starting with getting far away from Conner. Years later, with her "No Guy Policy" and strong work ethic, Avery assures herself that she's doing well. Yet there's still something missing from her life. Complete happiness. Her past continues to haunt her and it's something Avery needs to control and extinguish from her life. A great fear still lurks within Avery. Conner still poses a threat to her and she never knows when he'll strike.
Tristan Morganson walked into Avery's life months ago while building a home for her. Since then, their connection has never been severed despite the distance and lack of communication.
Three months later, they're reunited and the bond goes even stronger.
As much as these two try to stay apart, there's this unseen force that draws them back. Is it fate? Are they soul mates?
Avery and Tristan's dark pasts bind them together. They need one another to help each other and themselves.
Starting off as friends is always a plus for me and that's just what they did. Their friendship allowed them to really get to know one another and understand each other's pain. It also helped them overcome their pasts and heal individually. Their romance was so sweet and subtle, and then BAM! Steamy doesn't even cover it. When it finally happens it's amazing and meaningful.
The flashback moments with Conner gutted me. It's hard to read stories like Avery's, and there was one particular flashback that had me pausing for a break. Nevertheless, those flashbacks strengthened the story and enabled me to comprehend what she went through and what led her to the current point she was at in her life. Even Tristan's scenes were heartbreaking to read. Of course his story was more detailed in his prequel novella.
The pacing was okay, but for me personally I would've liked to have had it a bit more fast paced. There were moments that seemed repetitive, but perhaps it was meant to reinforce ideas into the readers head.
The back and forth between time periods threw me off a bit at the beginning, but I got used to it fairly quickly.
The only other thing that bothered me was Avery's love for her son. I questioned it a lot of the times during the book. I didn't feel like he was her number one priority. Instead, her brother seemed to top her list every time. She was always going on and on about him and his well-being. I understand that she felt obligated because of what they had gone through by the hand of their mother, but her son should be mentioned just as much, if not more.
I liked that there wasn't one character who was messed up and needed saving from the other. Both Avery and Tristan had problems to deal with and they fed off each other's energy. Even the supporting characters had flaws! This book was just so real in every sense of the word.
There were various aspects of the story that resonated with me and for that reason this story was a winner in my eyes.
If you're looking for a dark, painful read with two struggling characters finding love and a happily ever after in one another, then pick this book up.
*A complimentary copy of this book was provided by the author in exchange for an honest review.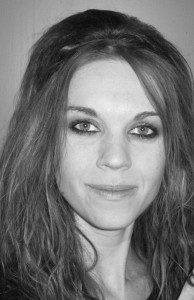 The New York Times and USA Today bestselling author, Jessica Sorensen, lives in the snowy mountains of Wyoming. When she's not writing, she spends her time reading and hanging out with her family.
Facebook † Twitter † Website
---
♥READ THE SERIES♥
Book 1 - Breaking Nova
Book 2 - Saving Quinton
Book 3 - Nova and Quinton: No Regrets
Book 4 - Wreck Me
Delilah: The Making of Red (Nova 2.5) and Tristan (Nova 3.5) can be found in the Take Chances Trilogy
Pre-Order Book 5 - Ruin Me
---