Blog Tour: ARC Review~ When I Break by Kendall Ryan +Excerpt & Giveaway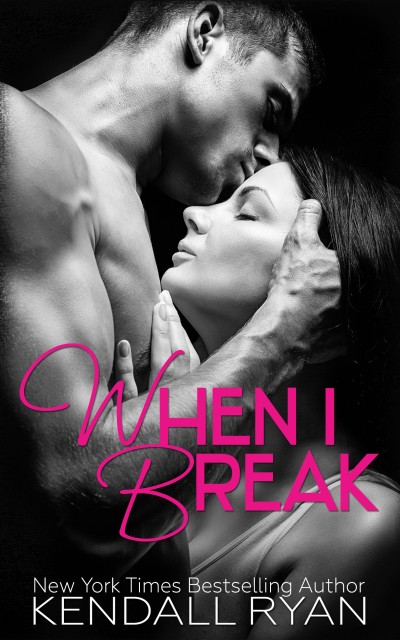 Knox Bauer's life has unraveled to the point of no return. Fighting to fill the emptiness inside himself, he seeks solace in unfamiliar beds with unfamiliar women. As guardian to his three younger brothers, he can't seem to do a thing right. But this can't go on...they look up to him in every way and all he's done lately is prove how messed up he really is. Needing a change, he attends a local Sex Addicts Anonymous meeting, where he finds himself tempted by the alluring instructor, McKenna.
Twenty-one year old McKenna is trying to make amends. After losing her parents in a horrific accident, she knows if she can just be good enough, maybe she can forgive herself for what happened. With her newly acquired degree in counseling, she begins leading a sex addicts group where she meets the troubled Knox and her life takes on complications she never bargained for. She doesn't have time for a bad boy who only wants to take her to bed, even if her body disagrees. The fixer in her wants to help, but trusting Knox's true motivations might take more courage than she has.
When I Break is book 1 in a new series by bestselling author Kendall Ryan.
When I Surrender, book 2, will be available May 2014.
Warning: Contains a stubborn alpha male with addiction issues and loads of sexual tension between two damaged characters. Read at your own risk. Due to mature content, it is recommended for 17+.
❃Excerpt❃
Knox," she murmured, her voice a tiny plea. "I wish we'd met under different circumstances. My being your addiction counselor complicates things."
"Why can't I just be a man, and you just be a woman?"
"You're in recovery. I can't be a temptation to you."
I swallowed heavily. Too late for that. My balls were aching with the need to sink inside her.
"We all have certain wants and desires, McKenna. It doesn't make them wrong. We're only human."
Indecision flashed in her eyes and her gaze zeroed in on my mouth. If I had to guess, I'd say she was thinking about what it would be like to kiss me. It seemed that good-girl McKenna had a naughty side to her. Every ounce of her wanted that kiss. I could read it all over her, from her flushed chest to the thrumming pulse in her neck. I'd be willing to bet it had been a long time since a man touched her. Her body's responses were too obvious, and I could read the want and curiosity all over her.
I leaned forward just slightly, wetting my lips. She swallowed, her eyes tracking the movements. Angling my head to hers, I paused, stopping myself. Why? To prove a point. We were mammals, we reacted to the opposite sex. It was biology. We were born to breed, to reproduce. Men especially—to spread around our seed. Just the fact that I stopped myself proved that I didn't have a problem. Only I wasn't sure if I was trying to convince McKenna or myself.
❥My Review:
McKenna is a twenty one year old virgin and sex addict counselor.
Things get complicated for her when one of the addicts in her group, Knox, stirs up feelings in her she's never felt before.
The opening scene shows a very hungover and irritated Knox. He treats his hook up disrespectfully and uses her to get one last moment of pleasure. This example shows how Knox abuses alcohol and uses women to escape from the past. Despite that I somehow still managed to like him. After he shares his story, that likability just goes up. Knox just did something to me. *shivers*
"When night comes and everything is quiet…" He paused, reluctant to continue. I waited, holding my breath and hoping that he'd open up to me. "I realize it's just me, with all this pressure riding on me, and I need someone. Some company to make me feel whole again."
McKenna lost loved ones and after that she began to drown herself in volunteer work. Just like Knox, she has something to help her forget it all.
Though a sex addict and sex addict counselor are an unlikely pair, they work so well together. I'm convinced they need each other and only each other.
I loved both characters so much and the way they eased quickly into a nice friendship. Yes, there was certainly lust mixed into that equation, but friendship was above all else. Knox opened up and communicated with her like he's never done with anyone.
Just as things seem to be working well for Knox and McKenna, an unexpected turn of events disrupts their flow.
I still have high hopes for those two and I can't wait to read more in the next book!
Hugs to Kendall for creating relatable characters with amazing chemistry. The flow of their relationship made for an enjoyable read. Though it was extremely short, it was a fantastic start to a series. April 7th, hurry up!
*An eARC was provided by the author for an honest review. This has in no way affected my review/opinion.
My Rating: 4 kisses
Playlist
Come a Little Closer – Cage the Elephant
Heart on Fire by Scars on 45
Love Don't Die – The Fray
Teardrop - Massive Attack
Fragments – Thievery Corporation
Letters from the Sky – The Civil Wars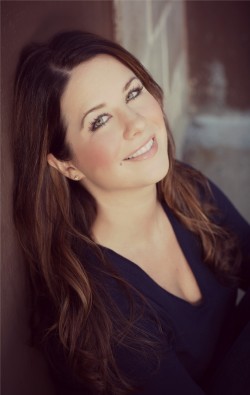 Kendall Ryan is the New York Times and USA Today bestselling author of the contemporary romance novels, HARD TO LOVE, THE IMPACT OF YOU, RESISTING HER and WORKING IT. She's a sassy, yet polite Midwestern girl with a deep love of books, and a slight addiction to lipgloss! She lives in Minneapolis with an adorable husband, two naughty puppies, and a brand new son. She enjoys being naughty, reading, and anything girly.